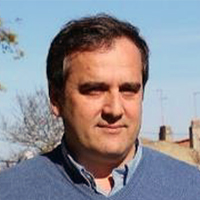 Ricardo Braga
School of Agriculture – University of Lisbon
Graduated in Agronomic Engineering (1993) from Instituto Superior de Agronomia and PhD in Agricultura Operations Management (2000) from the University of Florida, USA.
He is currently Assistant Professor at Instituto Superior de Agronomia at the University of Lisbon where he teaches courses in bachelor's and master's degrees in Agriculture and new technologies. He also belongs to the LEAF research center of the Instituto Superior de Agronomia, having developed several R & D projects in the field of precision agriculture, modeling of agricultural systems and climate change.
He is the author of over 50 scientific, technical and dissemination publications. He is the director of "Agrobótica" - a Portuguese dissemination publication focused on Precision Agriculture.